Women's work
Women take on menial jobs
Women doing hard physical labour in jobs that previously were reserved for men are an increasingly common sight in Zimbabwe.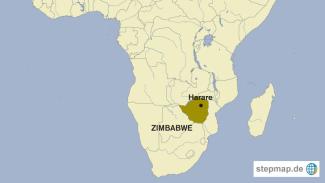 stepmap.de
A difficult economy is forcing educated and skilled workers, including many women, to take on menial jobs, working in mines, on construction sites and on municipal infrastructure projects.
One of these women is 39-year old Tracy Muzira, a labourer for the city of Zimbabwe. Clad in blue overalls, she was recently seen shovelling out mounds of garbage from a pit dug in Chinhoyi street and Albion Avenue in Harare, the Zimbabwean capital.
She was part of a group of labourers trying to stop a heavy leak from a burst sewer pipe in the central business district.
This occupation was not her original aim. After graduating from college with a degree in marketing five years ago, Muzira looked unsuccessfully for a job in her field.
After a long period of unemployment, she settled for a job as a maintenance worker for the city government. "I have no choice," she says. "There are no decent jobs especially for women like me. I have to do anything in order to survive."  
Muzira is not alone. In Harare, about 40 % of the city's female workers do menial jobs, for instance in the maintenance department. Nationwide, an estimated 46,000 women do unskilled manual labour, performing jobs once held only by men.
Her plight illustrates the poor state of Zimbabwe's economy. According to the World Bank, the official unemployment rate in Zimbabwe in 2019 is estimated at 4.9 %; the unofficial rate is considerably higher. Women make up a significant part of the unemployed and underemployed.
Some workers see nothing wrong with women doing jobs previously reserved for men. "Men or women, we all have to work; that's the way to go in today's world," says Bhekumuzi Dhlodhlo, a workshop foreman in Bulawayo, Zimbabwe's second-largest city.
Others say the issue is not gender, but rather the fact that a poor economy is forcing university graduates into menial jobs.
"Virtually all decent industries and companies have shut down, and the only alternative even for the women is to turn to blue-collar jobs," says Jimson Sibanda, a university graduate working for the government of Zimbabwe.
Some women have found jobs in the country's gold mines. One of them is 43-year old Melody Madyira, a trained accountant, who works as a labourer in various mines across the country. "We now have to do any jobs, even those known to be difficult jobs," she says. "If you become choosy, you get no job."

Jeffrey Moyo is a journalist based in Harare.
moyojeffrey@gmail.com