KfW
Paradigm shift: focus on investments in Africa
Africa harbours great potential: abundant resources, entrepreneurial spirit, innovative capability and cultural diversity. This contribution was written for a KfW supplement in the print issue of D+C/E+Z.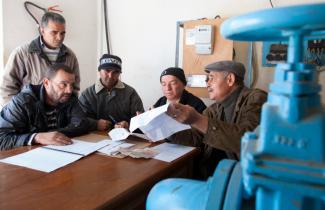 KfW-Bildarchiv/photothek.net
Sub-Saharan Africa shows robust economic growth of 3 per cent on average; Ethiopia, Côte d'Ivoire, Ghana and Rwanda are even higher than 7 per cent. The population is also growing rapidly: Africa's population will double by 2050. The continent will have the largest labour supply in the world by 2035. 20 million new jobs will be needed every year. To actively address the challenges, the countries of the African Union adopted Agenda 2063 in 2015.
This is the starting point for our cooperation: we must help our African partners to better leverage economic potential and create more jobs. The private sector can and must make a much bigger contribution to sustainable development. Against this background, the German Federal Government is now increasingly focusing on improving overall investment conditions. This was also the aim of the Compact-with-Africa initiative launched under the German G20 presidency in 2017. In "compacts" between individual African countries, international organisations (World Bank Group, African Development Bank, IMF) and bilateral partners, all participants coordinate concrete measures to mobilise local private-sector investment.
The Federal Ministry for Economic Cooperation and Development (BMZ) also established a new cooperation model to implement Agenda 2063 of the African Union: the reform partnerships. Under these partnerships, we strengthen the principle of personal accountability and ask for more reforms and personal contributions from our partners. The first pilot projects are underway in Côte d'Ivoire, Ghana and Tunisia. In Côte d'Ivoire and Ghana, the reform partnership focuses on the private sector's expansion of renewable energy and energy efficiency; in the reform partnership with Tunisia, cooperation focuses on the financial and banking sectors. Since 2017, the BMZ has supported the implementation of the first three reform partnerships with additional funds totalling around EUR 800 million. Three other reform partnerships with Ethiopia, Senegal and Morocco are set to be finalised by the end of 2019. The new "Special Initiative Training and Employment" and the Development Investment Fund also support private investments with EUR 1 billion.

First successes: reform partnership in Tunisia
In Tunisia, the reform partnerships have triggered important reforms in the financial and banking sectors. For example, the anti-corruption authority was expanded and the state credit guarantee fund was reformed to enable more investment in reliable overall conditions.

Dr Stefan Oswald is Head of Directorate-General 2, Marshall Plan with Africa; displacement and migration.

Link
KfW, 2019: Africa – continent of opportunity.
https://www.kfw-entwicklungsbank.de/PDF/Download-Center/PDF-Dokumente-Medienkooperation-mit-E-Z/2019_10_Afrika_E.pdf