Refugees
More than food and shelter
Herman Josef Hack is a German happenings artist and a student of Joseph Beuys. He calls for solidarity with refugees and wants the reasons for displacement – war and climate change – to be dealt with. This year, Hack and photographer Andreas Pohlmann took their "Global Brainstorming Project" to Lebanon in order to work with refugees.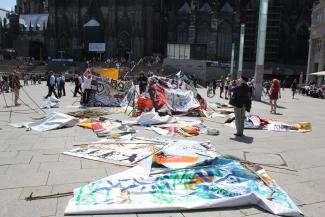 CARE/Michael Buttler
Saida is an hour's drive south of Beirut. It is raining, so the event takes place indoors, in the premises of a local citizens' initiative. The pungent smell of paint is in the air, the windows are wide open. Large sheets of white tarpaulin, a material normally used for truck covers or circus tents, are spread out on the floor.
Together with some participants, Hack is making final preparations. He is mixing weatherproof ink he will fill into dozens of buckets and tins of various sizes. He says: "The pictures will be displayed outdoors, in public places".
In his studio back home in Siegburg near Bonn, Hack uses painted tarpaulins to make miniature or live-size refugee tents. He later sets up those tents in unusual locations – at Frankfurt Airport, in front of the Brandenburg Gate in Berlin – to spread awareness.
Hack gives some tarpaulins to refugees to strengthen or decorate their simple shelters. The project – initiated by Hack and the photographer and publisher Andreas Pohlmann – is called Global Brainstorming.
In Saida, Haifa Al Atrash pulls on a blue rubber glove, dips her fingers into a pot and, with practised movements, applies ink to the canvas. The 40-year-old teacher is an experienced painter and sculptor whose life was shaped by displacement.
Her grandparents were expelled from Palestine in 1948 and settled in Syria. A large part of the family has lived for decades in Yarmuk near Damascus. Yarmuk started out as a refugee camp and grew into a city district. In late 2012, Haifa Al Atrash and her husband fled with their three children, escaping before Yarmuk was almost totally destroyed.  
The family found a temporary home in Southern Lebanon, but the future is uncertain. As Haifa Al Atrash talks, she uses a large brush to paint the pictures that haunt her every day: the sea, high waves, overcrowded boats, an SOS signal: "A friend of mine drowned with her three children, and so did a very close friend of my husband", she says. Other people that she knows have died in the Libyan desert. "It's very hard to keep losing people you are close to".
The art group in Saida is as diverse as the Middle East itself. It includes Syrians, Palestinians, Lebanese, Muslims and Christians, adults and children. The adults tend to paint traumatic experiences and political motifs. The children's pictures generally show their longings: the lost family, the flowers in the garden and, over and over again, school.  
Most of the children from Syria cannot attend school in Lebanon. Jala Al Khatib paints her former classroom. She was nine when her parents left Syria. Now, she is eleven and has missed two years of schooling. "We need school desperately", the bright little girl says. "But we can't go."
Jala has three brothers. Their father Khaled is an electronic engineer, mother Fatima studied law. In Damascus, both parents had good jobs and the family lived in a comfortable apartment. Now, the six of them live in a converted storeroom and depend on donations and food parcels. Even so – or perhaps for that very reason – the whole family responded immediately to the invitation to take part in the art project.
Fundamental need
On one tarpaulin, Fatima Al Khatib and other women paint a key – the key to the homeland they lost. Fatima says that she regularly went to the theatre and concerts in Damascus. In Lebanon, there is no way she can afford to.
The problems that refugees face are obviously not solved by an art project like Hack's, Fatima points out. But she is grateful for the invitation to the workshop because she feels the project restores a bit of humanity. "For the first time since escaping to Lebanon, I feel that someone sees us as human beings, who not only require food and shelter, but also have cultural needs".
Martina Sabra is a free-lance journalist.
martina.sabra@netcologne.de