Flood prevention
After us, the deluge?
Climate change is particularly noticeable in the water cycle. Global warming changes the oceans' rate of evaporation and influences the frequency and intensity of rainfall. The result is extreme weather events. Deforestation and other kinds of destructive human action compound the problems. In many places, people and ecosystems suffer due to too much or too little water.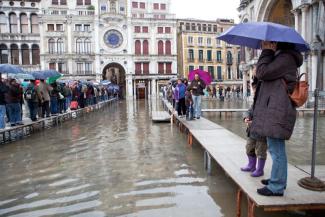 Gintenreiter/picture-alliance/dpa
The World Economic Forum considers the emerging water crisis and the failure to appropriately adapt to climate change to be among the greatest risks to the global economy and the stability of societies worldwide. Today, water is involved in nine of ten catastrophes around the world. Experts reckon that, by the year 2030, 40 % of urban areas will be at high risk of flooding.
Water-related risks do not affect everyone equally. Climate scientists consider South Asia, sub-Saharan Africa and South America to be at greater risk than other regions. Accordingly, the developing and newly industrialising countries there are especially exposed. Within the countries, moreover, the poor are most affected, for example because they tend to live in informal settlements in valleys and on hillsides that are susceptible to flooding or landslides.
In the Paris Agreement, governments from over 190 countries proposed a solution to these challenges. According to the agreement, adaptation to the impacts of climate change matters as much as reducing greenhouse-gas emissions.
Climate-change adaptation is the attempt to avoid or reduce the negative consequences of climate change. To the extent possible, it should take advantage of the potential that climate change unleashes. For example, increases in local precipitation could replenish aquifers and thus be stored for use in times of drought.
The Sustainable Development Goals (SDGs) address adaptation, sustainable water management and the prevention of water-related catastrophes. Adaptation measures relating to water feature prominently in the Nationally Determined Contributions (NDCs) made by many developing and newly industrialising countries in the context of the Paris Agreement.
Water plays a key role both in climate-change adaptation and in sustainable development. But how can this issue be better mainstreamed in the planning and implementation of development efforts, and what does effective water-related adaptation look like?

A new goal
Rotterdam, May 2016. At an international conference on climate-change adaptation, Wim Kuijken presented a prime example of successful measures. He is the commissioner of the Netherlands' Delta Programme, a government-appointed board responsible for flood and coastal protection. His pet project was the restoration of the flood plains of the Waal River. As a result, the city of Nijmegen is now better protected from severe flooding. As a bonus, the meadows are an attractive local recreation area, linking two protected areas.
Many adaptation measures consist of known solutions to familiar problems, like giving back more space to the rivers in order to reduce the risk of flooding. Totally new approaches are only rarely taken. Many experts argue that adapting to climate change is really nothing new and the best strategy would be to concentrate on sustainable solutions to conventional problems.
However, adaptation measures have a new and different goal. They are supposed to make people and the environment less vulnerable to a changing climate and reduce related risks. The big difference to traditional approaches is that adaptation depends on hypotheses concerning what local impacts climate change will have and what human beings can do about them.
To assess a project's likely impact and prove that it will serve the goals of the Paris Agreement, one thus needs an "adaptation hypothesis". Funding for adaptation efforts is awarded according to such hypotheses. Studies have shown that projects usually deliver better results when they are grounded in a vulnerability or risk analysis.

Escaping the environmentalist bubble
One obstacle to restoring the Waal in Nijmegen was that, for a long time, the water authority, urban planners and the central planning boards were not in touch. Such compartmentalisation is typical of public authorities in many countries. Unfortunately, adaptation measures are still often considered stand-alone environmental projects.
State agencies often lack support from the top-level government and the institutional capacities they would need to mainstream climate-change adaptation in all areas of water management. As a result, many individual measures of quite limited scope and sustainability were developed within the bubble of agencies in charge of environmental protection.
The Paris Agreement calls on all countries to overcome this silo mentality and plan adaptation measures on a national scale. They should combine activities, promote coordination between sectors and facilitate the mainstreaming of adaptation on all levels. It is also important to encourage the widespread participation of representatives from every area of society.
It is especially promising to involve stakeholders such as affected companies and local researchers in decision-making early on. Their experience makes it easier to weigh the costs of adaptation against expected gains. This approach has proved useful in various developing and newly industrialising countries.
Two examples from Thailand and Albania illustrate that it makes sense to add adaptation measures to the established methods of integrated water resources management (IWRM). Both countries are combining conventional flood protection with innovative concepts, such as harnessing the power of ecosystems to prevent disasters.
In both cases, affected people were involved, and experts from different disciplines and institutions cooperated closely, even across borders. For the measures to be accepted and last a long time, they must fit the plans and budgets of all parties concerned. In the future, it will become ever more important to be able to quantify sustainable successes. Doing so will also allow governments to better position themselves in regard to international climate affairs.


Daniel Nordmann is a planning officer for the Competence Centre for Water of the Gesellschaft für Internationale Zusammenarbeit (GIZ).
daniel.nordmann@giz.de
Till Below is a planning officer for climate change adaptation in GIZ's Competence Centre for Climate and Environmental Policy.
till.below@giz.de


References

World Bank, 2016: High and dry – climate change, water, and the economy.
GIZ, 2014: Flood risk management – an increasing challenge for international cooperation.
World Bank, 2015: Disaster risk, climate change, and poverty: assessing the global exposure of poor people to floods and droughts.
WMO/UNEP, 2008: Climate change and water. Intergovernmental Panel on Climate Change, IPCC Technical Paper VI.
Güneralp, B., Güneralp, I., and Liu, Y., 2015: Changing global patterns of urban exposure to flood and drought hazards. Global Environmental Change 31, 2015, 217–225.
World Economic Forum, 2016: The Global Risks Report 2016 – 11th Edition.