Global environment
Environmental UN conventions are mutually reinforcing
Ecosystem services are of vital importance for mitigating the climate crisis. Ecosystems sequester atmospheric carbon and thus reduce greenhouse-gases in the atmosphere. The complex nature of sequestration makes it difficult to estimate impacts precisely, but it is well understood that this interaction matters very much.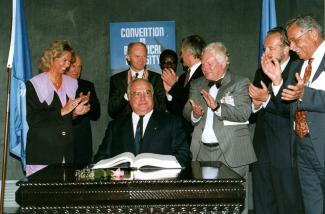 Ricardo Mazalan/picture-alliance/ASSOCIATED PRESS
Research suggests that the greater an ecosystem's biodiversity is, the greater its capacity for carbon sequestration becomes. Oceans and seas, for example, remove carbon dioxide from the atmosphere and dissolve it in water. It is consumed by marine algae and aquatic plants which ­either store carbon or convert it into environmentally valuable compounds. The carbon-sequestration capacity of forests similarly depends on their biodiversity.
The climate crisis and the erosion of biodiversity are therefore mutually reinforcing trends. Global heating puts stress on species, while the loss of species exacerbates global heating. Humanity must get a grip on both.
Rio 1992
It is, of course, no coincidence that the UN Earth Summit in Rio de Janeiro in 1992 resulted in three interrelated multilateral conventions. Apart from the Convention on Biodiversity (CBD), that was the UN Framework Convention on Climate Change (UNFCCC) and the UN Convention to Combat Desertification. The former has attracted more public attention than the CBD, the latter less attention.
Implementation of the CBD is organised in a similar way as the UNFCCC. There are regular conferences of parties (COPs) where UN member nations assess recent trends and agree on global targets (see Günther Mitlacher in opinion section of D+C/E+Z e-Paper 2019/01). COP 15 was supposed to take place in Kunming, China, this year. Due to the Covid-19 pandemic, the first part took place digitally last week, and the decisive in-person sessions were postponed to 25 April to 8 May 2022. The idea is to adopt a plan that would resemble the Paris Agreement on Climate Change. The digital first part resulted in the Kunming Declaration. It's content is considred to be promising, though binding committments have not been made yet. Sensible goals would include cutting the current extinction rate tenfold, for example.
Sundus Saleemi is senior researcher at the Center for Development Research (ZEF) of Bonn University. She recently worked with the independent Scientific Group that supported the UN Food Systems Summit in September 2021.
sundus.saleemi@gmail.com