Regional organisation
Like a magnet
ECOWAS is a less than perfect regional organisation, but it has made considerable progress and looks attractive to neighbouring countries.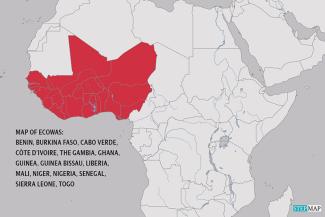 stepmap.de
Right after World War II, when most of sub-Saharan Africa was still under colonial rule, West Africans made several attempts at regional integration. The first effort dates back to 1945 and was driven by France. The CFA franc was created as the joint currency of francophone countries. It had a fixed exchange rate with the French franc, tying the economies closely to the monetary policy of the colonial power. Today, the Central Bank of the UEMOA (Union Économique et Monétaire Ouest Africaine – West African Economic and Monetary Union) is based in Dakar, the capital of Senegal. The CFA franc now has a fixed exchange rate with the euro.
After several failed attempts to involve all countries of the region, regardless of language or size, in regional cooperation, Nigeria and Togo launched yet another initiative in 1972. It resulted in the Treaty of Lagos, which was signed on 28 May 1975 and established the ECOWAS (Economic Community of West African States).
The main goal was to foster economic cooperation and promote intra-regional trade. Because of chronic instability and civil wars, however, ECOWAS soon had to focus on issues of regional peace and security (see interview with Vladimir Antwi-Danso in D+C/E+Z e-Paper 2018/02, Focus section).
Vincent Foly is the editor of La Nouvelle Tribune, a newspaper in Benin. In his eyes, the ECOWAS is perhaps the most successful regional organisation in Africa. He says it has achieved much in terms of ensuring free movement of people and goods. An agreement on a customs union has boosted its reputation. The specialised agencies of ECOWAS are funded with a common import levy, and that system is running well.
The positive image of the regional bloc, says Vincent Foly, seems to be acting like a magnet. Morocco, a country in northern Africa, has applied for membership in February 2017. It is still awaiting official admission.
Mauritania, a former member state of the ECOWAS which left the organisation back in 2000, signed a new associate-membership agreement in August 2017. The step made economic sense: ECOWAS is home to 300 million people and covers about one-sixth of Africa.
On the other hand, it has not con­cluded an Economic Partnership Agreement (EPA) with the EU. Only a preliminary agreement is in force, which applies to
Ghana and Côte d'Ivoire.
But not all works well within the bloc. Foly says ECOWAS has "feet of clay" because political rivalry amongst heads of state and government continues to undermine efforts at full integration.
Other observers see more serious flaws. Luc Fernand Kpelly, a journalism instructor, argues that ECOWAS basically only unites "heads of states who bribed their way to power". In Kpelly's opinion, moreover, the former colonial powers, namely France, Britain and Portugal, continue to manipulate the regional bloc for their own national interests. "France often hides behind Senegal and Côte d'Ivoire to torpedo all promising effort at full integration," he says.
Overall, the ECOWAS has not been able to achieve a full harmonisation of member countries' macroeconomic policies. There is also a lack of promotion of the private sector as the driving force towards achieving economic integration. Divergent and often counter-productive taxation policies in individual member states constitute another serious bottleneck. Stronger trade within ECOWAS could make the region more resilient to external shocks, but so far, governments have not done much to make that happen. Mass poverty remains a huge challenge, and the informal sector tends to keep people trapped in misery – for example in Benin (see my comment in Debate section of D+C/E+Z e-Paper 2018/10).
Plans to establish a monetary union for all ECOWAS members have been spelled out for a long time, but have not made much progress. In view of the problems the Euro-Zone has run into that may actually be a good thing. Indeed, some critics argue that UEMOA is hurting the francophone members by subordinating them to European exigencies.

Karim Okanla is a media scholar and freelance writer from Benin.
karimokanla@yahoo.com