Human rights
Abolishing the death penalty
In 2022, the death penalty was officially abolished in Zambia, making the country one of the latest world nations to do away with the capital punishment. Zambia has not had any execution of death row inmates since 1997.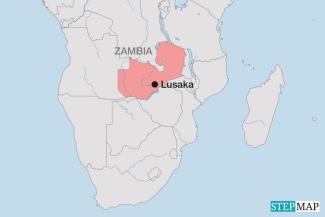 Stepmap
According to local prison authorities, there were at least nine new death sentences in the country in 2021 and 257 inmates were on death row at the end of 2021. Capital punishment has been a legal penalty in Zambia since its independence from Britain in 1964.
Various activists have for long advocated for the ban of the death penalty in the country. Politicians have always been non-committal to addressing the issue. However, Zambia's current president Hakainde Hichilema, finally signed into law an amendment on the 23rd of December 2022 banning the death penalty.
"Fellow Zambians, during our campaigns for the presidency, we promised to amend all laws that inhibit the growth of democracy and good governance, impede human rights and basic freedoms. Today we have delivered," Hichilema said.
Various stakeholders have since hailed Zambia's government on its move to abolish the death penalty. "It is a cruel, inhuman and degrading punishment. The EU strongly opposes the death penalty in all circumstances and will continue to work for its abolition worldwide," European Union spokesperson for foreign affairs and security policy, Nabila Massrali, said.
The death penalty has been criticised as an archaic punishment which is against basic human rights. Activists also argue that the death sentence is inhumane, discriminatory and in many cases, it is used as a political tool to fight dissent and silence opposition. Moreover, there are claims that it has no deterrent effect on stopping crime.
Amnesty International has hailed Zambia for its "progressive" policy that shows the country's commitment to protecting the right to life. The human-rights organisation says, that executions in sub-Saharan Africa have more than doubled from 16 in 2020 to 33 in 2021. Somalia executed 21 people and South Sudan at least nine, according to Human Rights Watch, another international organisation.
Zambia joins other Southern African countries such as Angola, Mauritius, Mozambique, Namibia, Seychelles and South Africa that have abolished capital punishment in recent years. For many African countries, the death penalty was introduced in their constitutions and penal codes during the era of colonialism.
Godfrey Malembeka, the executive director of Prisons Care and Counselling Association (PRISCCA), says: "The death penalty contravenes human rights and the right to life. It is the ultimate cruel, inhuman and degrading punishment, irrevocable and can sometimes be inflicted on the innocent. People need to understand that there is no rehabilitation in the grave."
Some proponents of the death penalty insist that the punishment is necessary because it offers a just retribution for capital crimes, deters crime, protects society and preserves the "moral order." Kelvin Chola, a Lusaka resident who is against the repeal of the death penalty, says: "Why should anyone who kills another human being in cold blood be allowed to enjoy life? This is not justice at all. This law will not deter serial killers in society. People should learn to respect the sanctity of life."
Derrick Silimina is a freelance journalist based in Lusaka.
derricksilimina@gmail.com