Infrastructure
Pakistan is facing a looming water crisis
Pakistan is facing a looming water crisis that threatens to exacerbate food insecurity. Political instability and economic fragility are complicating the situation further. The government is taking steps to address the problems, but much more needs to be done.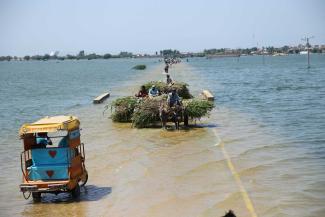 picture-alliance/AA/Jan Ali Laghari
Pakistan is home to some of the world's most rugged terrain, from the Himalayan and Karakoram Mountain ranges to vast deserts and arid plains. The country is both geographically hostile and ecologically fragile, two factors that hamper efforts to feed the growing population. For example, the dry climate and unpredictable weather patterns make it hard for farmers to grow crops. The lack of proper infrastructure, moreover, means they struggle to transport produce to markets.
The 2022 Global Hunger Index ranks Pakistan a dismal 99th out of 121 countries. The looming water crisis threatens to exacerbate food insecurity. Extreme weather events are becoming more frequent and severe due to climate change. Devastating flooding ravaged the country in 2022.
Pakistan is also vulnerable to disasters such as earthquakes and droughts. In the aftermath of such events, hundreds of thousands of people are normally in need of emergency water and sanitation assistance. Climate and conflict-driven internal migration and displacement add to the difficulties. What's more, Pakistan is experiencing an economic crisis that has left the government overwhelmed. Authorities are struggling to manage food scarcity, restore livelihoods and control spiralling inflation. The World Bank's 2022 Country and Climate Development Report paints a dire picture of Pakistan's future unless immediate action is taken to address climate change and environmental degradation. The report predicts that, if the country fails to act, it could see its annual GDP plummet by a shocking 18 to 20 % per year by 2050. Water shortages in agriculture alone could make up over 4.6 % of GDP losses. As of 2020, Pakistan had the lowest water productivity in southern Asia. Yet the livelihoods of the poorest critically depend on access to water services, and shortages affect them badly.
Contaminated water puts children at risk
Access to safe water and sanitation is limited, with climate change and rapid urbanisation making matters worse. Even some health centres and schools lack proper water and sanitation infrastructure. That poses problems especially for girls, who need adequate facilities to manage their menstruation.
According to UNICEF, 25 million people in the country still practice open defecation, a leading cause of waterborne diseases. UNICEF estimates that 70 % rely on bacterially contaminated water. As a result, around 53,000 Pakistani children under the age of five die from diarrhoea every year. Education outcomes are affected as well: children who experience repeated bouts of diarrhoea are likely to fall behind in school or even drop out entirely. Diarrhoeal disease can also cause stunting, which currently affects almost 44 % of children in Pakistan. Stunting prevents children from growing and developing as they should.
Pakistan's National Water Policy, which was approved in 2018, faces several significant implementation challenges. Relevant issues are water infrastructure, institutional capacity and political will. One of the most pressing topics is the lack of adequate water-storage capacity, which leads to a shortage of water both in times of drought and floods. The shortage is exacerbated by inefficient and outdated irrigation systems, which waste a significant amount of water.
The country's institutional capacities are too weak to implement the National Water Policy. The policy calls for the creation of a National Water Council and a National Water Regulatory Authority to oversee water management and ensure compliance with the policy's guidelines. However, the government has been slow to establish these institutions. It has also failed to properly define their future responsibilities and roles.
Political will is also a major challenge. The National Water Policy calls for significant reforms in the management of water resources, including the regulation of groundwater extraction and the promotion of water conservation measures. However, these reforms may prove unpopular, particularly among influential agricultural and industrial lobbies, and may thus face political resistance.
In light of these challenges, the Pakistani government has launched several initiatives to improve food security and address the country's water crisis. These include investments in irrigation infrastructure, support for smallholder farmers, and the construction of new dams and reservoirs. However, much more needs to be done if Pakistan is to meet the challenges of its rapidly growing population, hostile geography, and climate vulnerability.
Transparency and accountability
One of the key issues in Pakistan's water governance is the lack of transparency and accountability. Corruption and favouritism in water distribution have been reported in several parts of the country, particularly in the context of large-scale irrigation schemes. These practices not only undermine the efficient use of water resources, but also exacerbate social and economic disparities. Small farmers and marginalised communities are often left without adequate access to water.
Another challenge in Pakistan's water governance is the lack of effective regulation and enforcement of water laws and policies. Despite the existence of the National Water Policy and various provincial water management frameworks, implementation has been weak and inconsistent. This has resulted in a fragmented and often conflicting regulatory environment, with multiple agencies and stakeholders that lack clear roles and responsibilities.
Overall, addressing the challenges of weak water governance in Pakistan will require a concerted effort from all stakeholders, including the government, civil society organisations and the private sector. These stakeholders should focus on investing in the development of institutional capacity, promoting transparency and accountability in water management and ensuring the effective regulation and enforcement of water laws and policies.
In Pakistan, the climate crisis is primarily a water crisis. It cannot be avoided, but timely adaptation measures can help Pakistan reduce the extent of harm. The clock is ticking, and the longer we wait, the worse it will get.
The way forward
Experts who participated in the Pakistan Water Week 2022 in Islamabad made five key recommendations to improve water governance in Pakistan:
Policymakers should focus on strengthening the institutions responsible for water governance by providing them with the necessary resources and training to carry out their responsibilities effectively. A renewed focus on investing in water infrastructure, including sanitation, is needed as well. Public investments should complement civil society efforts.
Effective devolution is essential. Pakistan's province governments should take the lead in implementing initiatives to improve water storage, conservation, recycling and reuse as best suited to their needs.
Technology should be used to build trust and ensure transparency. Provinces should share water-flow data automatically. Data-based evidence should guide decisions regarding water allocation, use and management.
Journalism that addresses water and climate-related issues should be better funded. Powerful and resourceful media owners must be made aware of the severity of the water and climate crises.
Women and youth must be involved in debates concerning the water sector at the national and province levels. Both groups have an important role to play in shaping water use, now and in the future.
Furthermore, Pakistan needs to go beyond rhetoric and address water as national security issue in 2023, which can also be an election year. If citizens treat water security as an integral part of economic security and insist that political parties promise water sector reforms and investments in their slogans, it could create an opportunity to hold those parties accountable once they come to power. If institutions and policymakers cooperate effectively, they can reduce water-related impacts on Pakistan's people and economy.
Pakistan's contribution to global greenhouse gas emissions is less than one percent, so its vulnerability to climate impacts is disproportionately high. Access to adequate climate finance and support would help Pakistan to address these challenges effectively, enhance its resilience and contribute to global efforts to combat climate change and its adverse effects.
Abdur Rehman Cheema holds a PhD from Massey University, New Zealand, and has been a Chevening post-doctoral fellow at the University of Oxford.
arehmancheema@gmail.com