Unemployment
Graduates living in poverty
A destitute man trudges along a street in the Zimbabwean capital Harare, pulling a home-made cart loaded with scrap metal to sell. He is a university graduate. 32-year-old Hillary Mbedzi holds a degree in sociology, but eight years after he graduated, he still has no formal job. "My degree is just a worthless paper. It has not helped me to find employment," Mbedzi says.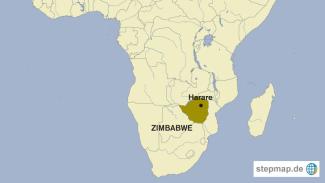 stepmap.de
As many others, Mbedzi moved from the countryside to the Zimbabwean capital after completing his tertiary studies, hoping to find a decent job. Today he is homeless and an alcoholic. He hops from one friend's home to the other, and sometimes even ends up sleeping on the street pavement.
Mbedzi's life is typical of millions of Zimbabwe's unemployed college and university graduates. According to statistics from Zimbabwe's Ministry of Higher and Tertiary Education, approximately 30,000 students graduate annually from the country's institutions of higher learning. Officially, the country's unemployment rate is 10.7 %. In truth, however, some 80 % of the adult population of this country of 13 million people has no formal employment.
To David Sithole, dean of students at the University of Zimbabwe, fixing the country's economy should be the priority number one. "Our industries are either downsizing or shutting down completely. For our university graduates, there is nowhere to go," he says.
Consequently, amongst unemployed graduates like Mbedzi, substance abuse and alcoholism is quite common. According to sociologist Happson Jaravaza, many university graduates use drugs and drinks "to block out the sad reality of survival without a stable and decent job".
Zimbabwe's economy has struggled with youth unemployment for a long time. From 2003 to April 2009, hyperinflation rocked this Southern African nation. Inflation shot up to 231 million %, forcing the country to suspend its own currency. But life has not become much easier since. According to a 2013 report by the Zimbabwe Economic Policy Analysis and Research Unit (ZEPARU), the economy fails to create jobs for many people here, including youths. Zimbabwe's President Robert Mugabe, however, blames the country's woes on western sanctions.

Jeffrey Moyo is a journalist and lives in Harare, Zimbabwe.
moyojeffrey@gmail.com
Links
ZEPARU (Zimbabwe Economic Policy Analysis and Research Unit):
http://www.zeparu.co.zw/