Social policy
First Global AgeWatch Index
HelpAge has designed a new index in cooperation with international agencies such as the UN Population Fund (UNFPA). The goal is to assess how old people are faring around the world.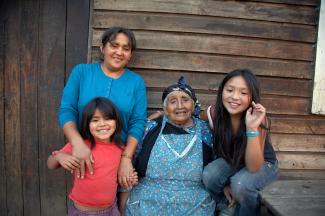 Sean Sprague/Lineair
Each second, two people in the world complete their 60th year. For the first time in history, there will be more people over 60 years of age than children under 15 in 2050. By then, the share of elderly people in the population will be higher than 30 % in 60 countries.
The first Global AgeWatch Index – published by the international development organisation Help­Age – shows how governments are rising to the challenge and how the situation of elderly people is evolving. This index was developed in cooperation with international experts in statistics from the United Nations, the World Health Organisation, the World Bank and scientific institutions. It will be published annually and updated permanently.
According to the data, it is obvious that the living conditions of old-age pensioners do not depend on the economic wealth of the nation in question, but mainly on the political will to act. The most important conclusions are:
Northern and western Europe score best, particularly because of their long history of social protection programmes.
Eastern European countries like Russia and Ukraine, which will experience a steep increase of their elderly population to 30 % by 2050, are ranked in the lower half.
While the BRICS (Brazil, Russia, India, China and South Africa), which account for 40 % of global old agers, have experienced fast economic growth, that trend has only led to better living conditions for the elderly in China and Brazil.
Countries with fast ageing societies such as Jordan, Laos, Mongolia, Nicaragua and Vietnam, whose elderly population will triple by 2050, have bad indices.
Latin America, with its old age percentage doubling by 2050, shows good scores, with Chile as leader, ranking 19th.
In Africa, there will be 13 times more old people than today by 2050, but at the same time, a collapse of traditional social security systems can be observed.
One of the first questions HelpAge International is often asked about social pensions is "what happens in other countries?". HelpAge's Pension Watch website aims to answer this question, with a particular focus on sharing knowledge on social pensions. This knowledge hub includes:
an interactive country fact file and downloadable database of all social pensions,
an interactive pensions calculator and
briefings on country case studies and thematic issues. (mb)