Human trafficking
False promises
The city of Tamale in Northern Ghana is witnessing an upsurge in prostitution. Many young women are trafficked from Nigeria under the pretext of getting decent jobs. Instead, after arrival, they are forced into the sex business.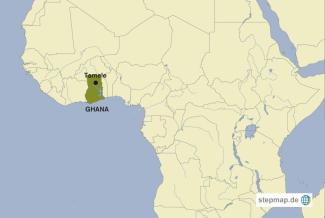 stepmap.de
In the evening, when most people in Tamale are having dinner, Nicki (name changed) is standing near the Bank of Ghana, a popular spot for sex workers. Every night, dozens of young women from several African countries line up here in the heart of the city to catch the eyes of men. Most of them are lured to Ghana by gangsters.
Nicki and two other women were brought to Ghana from Nigeria five months ago by a trafficker who promised to employ them as sales girls in her boutique. "But now she says I must prostitute myself," Nicki says. "I don't have a choice, because they say if I report to the police, the police will arrest me." According to her testimony, the women were abused and beaten until they gave in.
Nicki makes an average of 100 Ghana cedis (17 euros) a night for her madam. If she fails to earn enough money, she is beaten that night. Out of her earnings, Nicki gets only 1 euro per day for food. She says: "I don't want to use my body to make money. It is better for me to go back to Nigeria. When I was there, I wasn't doing this."
There is no accurate data available about the number of women that are forced to work as prostitutes in Africa and in Ghana in particular. According to Rafiatu Mohammed, assistant superintendent of immigration, there is a strong link between human trafficking and prostitution. "Mostly Nigerians are trafficked for prostitution," she says and explains how it works: "Someone who seems to be trustworthy comes and tells the women: I am coming from Ghana, this is the business I am operating. Since you are not doing anything here, let's go to Ghana, and you help with the business. You will be well paid. Just go to Ghana, and things will change."
The victims start out with a debt of 8000 cedis (1350 euros) because of the smuggling costs. It takes them months to pay back this debt.
Ghana's human trafficking act prescribes a minimum penalty of five years imprisonment for all forms of trafficking. However, the police finds it difficult to investigate crimes relating to sex trafficking. "Even when we arrest a man together with a prostitute, they tell us they are boyfriend and girlfriend. You need to do a lot of intelligence, monitoring and also get electronic evidence in order to prosecute them," says Kwabena Otuo-Acheampong, who heads the anti-human trafficking unit of the police in the Northern Region.
Between 2018 and 2019, police in this Region have rescued 14 trafficked persons. Only one trafficker is serving a jail sentence.

Maxwell Suuk is a journalist in Northern Ghana.
suuk.max@gmail.com