Education
Guatemala's social problems
In Guatemala, children are required to attend six years of primary school, which they can do free of charge. In addition, state-run education programmes have the right ambitions: they aim to provide school meals, an inclusive environment, intercultural education and teaching materials. But implementation has been extremely slow, and nationwide problems like poverty, corruption, violence and racism all have a negative impact.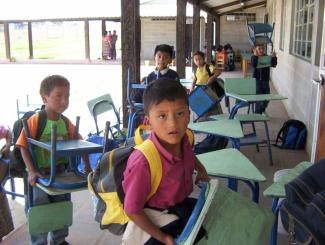 Gudrun Lux
In Guatemala, the constitution guarantees the right to education. Six years of primary education are compulsory. Primary school is the only form of school that the state is required to provide to all children free of charge. Nevertheless, approximately 245,000 boys and girls between the ages of seven and 12 do not go to school at all. Unfortunately, the percentage of school-age children who do not attend school has significantly increased over the past several years, rising from 5.5 % in 2006 to 19 % in 2015. According to a recent study, children from low-income families are particularly likely to stay home, especially if they live in rural areas and belong to indigenous communities.
In contrast to secondary schools, most primary schools in Guatemala are state-run. Since 2005, over 1,500 new state primary schools have been registered. However, the share of private schools is gradually increasing and currently stands at 14.7 % (see box).
Whereas private schools are usually located in cities, public-sector schools are often the only primary-education institutions that can be found in rural areas, where the population tends to be indigenous. Rates of poverty and malnutrition are high. One out of every four boys and one out of every three girls has to work in addition to going to school.

Free – but still too expensive
The Peace Accords that put an end to Guatemala's 36-year civil war in 1996 committed the state to invest more in education. Accordingly, the government spent around 2.8 % of its budget on education in 2013. Half of that money went to primary schools in order to cover the cost of instruction, subsidise school meals and pay for teaching materials.
However, bureaucracy and widespread corruption have foiled many good plans. Textbooks and teaching materials often don't arrive until the end of the school year – if at all. The school meal programme is another example of failure. Every child is supposed to get a balanced breakfast and lunch in order to prevent malnutrition and improve attention in the class rooms. School meals matter to poor families in particular. However, the funds are disbursed much too late, and the amounts tend to be too low. Many schools only offer meals sporadically. In other cases, the food that they receive does not meet the official quality standards.
Despite the fact that a programme exists to provide a free education, school is expensive for poor children. Up until a few years ago, parents had to pay an annual registration fee. It has been scrapped, but schools still ask for "voluntary contributions" to pay for repairs, drinking water, computers, increases to teachers' salaries and security services to protect the building. Parents also have to pay for school uniforms and supplies.
Many families with a large number of children choose one child they send to school so at least one will get primary education. Others decide to send some of them to school for short periods so each will learn to read, write and perform basic arithmetic. These skills are useful in the eyes of subsistence farmers.
Thousands of children have to walk long distances to school or use unsafe public transportation that often takes them through dangerous areas.

Overworked teachers, crime and natural disasters
Especially in rural areas, teachers are often overworked. In 2014, teachers at private schools taught an average of 15 pupils per class. Teachers in public-sector schools taught 26, whereas on the outskirts of cities they sometimes had over 40. In some rural schools, a single teacher has to teach three different age groups at the same time and act as the head of the school. They also do not have enough teaching materials, particularly when it comes to subjects like sports and art. In the last decade, the government cut the education budget and introduced temporary employment contracts for teachers. As a result, selection and hiring processes now take significantly longer, leaving some classes with no teacher at all for lengthy periods of time.
The school buildings are also frequently in disrepair. In poor regions, classrooms are often only built of corrugated metal walls, and the teacher's desk consists simply of a few bricks stacked on top of each other. In some cases, each pupil has to bring along a bucket of water in order to flush the toilet. Earthquakes, landslides and floods have caused major, irreparable damage to many school buildings. As a result, the affected pupils are deprived of classrooms indefinitely.
Computer labs have yet to be set up in schools. The challenges are especially tough in areas that lack electric power. But even schools that do have computers often do not have funds for maintenance, internet connections and trained IT teachers.
Cancelled lessons are yet another problem. Teachers frequently go on strike in response to unstable employment conditions and delayed payment of wages. School buildings are sometimes used as polling places or emergency shelters for victims of natural disasters. Consequently, the required 180 days of instruction that ought to make up the school year do not actually take place.
Schools recurrently close when criminals demand protection money and threaten pupils and teachers that otherwise they will use violence. Violence is omnipresent in Guatemala. Pupils have even been murdered at school. Classes are cancelled when such things happen, and some children never return to school out of fear for their safety.

Good goals, poor implementation
According to the national curriculum, schools should promote gender equality, inclusion and respect for indigenous peoples. They are supposed to teach students to become responsible citizens and create a culture of peace. Approximately 10 years after the curriculum was approved, however, teachers have still not received the appropriate training and do not know how to implement these goals in the classroom.
Children from indigenous families have to become part of a school system that is not based on their communities' world view. It does not uphold their cultural values, pays little attention to their history and does not take into account their socio-economic situation. In addition, teachers often fail to address indigenous peoples' contribution to society. Although it is a national goal to offer bilingual and intercultural education, there are still very few teachers who can teach both in Spanish and in one of the 24 indigenous languages.
"There are many teachers who are actually indigenous themselves, but they can't write correctly in their language and can't use it to teach," explains Zoila Tot, a Q'eqchi' whose children attend their village's government-run school. "They prefer to teach in Spanish because they are afraid of being discriminated against. There is a lot of racism. People think children are getting an inferior education if they are taught in a Maya language. But the children are the ones who suffer: many of them have to repeat the first grade or end up leaving school altogether. Their families then see school as a waste of time and money."
All of these factors reduce educational success. According to a study from 2014, sixth-graders only reached 40 % of the reading abilities and 44 % of the mathematics skills they should have acquired at that time. The right laws are in place, but much remains to be done.

Patricia Galicia is a radio journalist based in Guatemala City.
pati.galicia40@gmail.com