Food security
Hunger amidst plenty
A programme intended to subsidise the purchase of fertilisers and seeds by Malawi's impoverished farmers is failing badly, despite a promising start 15 years ago. The Farm Input Subsidy Programme (FISP) is falling victim to mismanagement, to the point where some experts are calling for its abolition.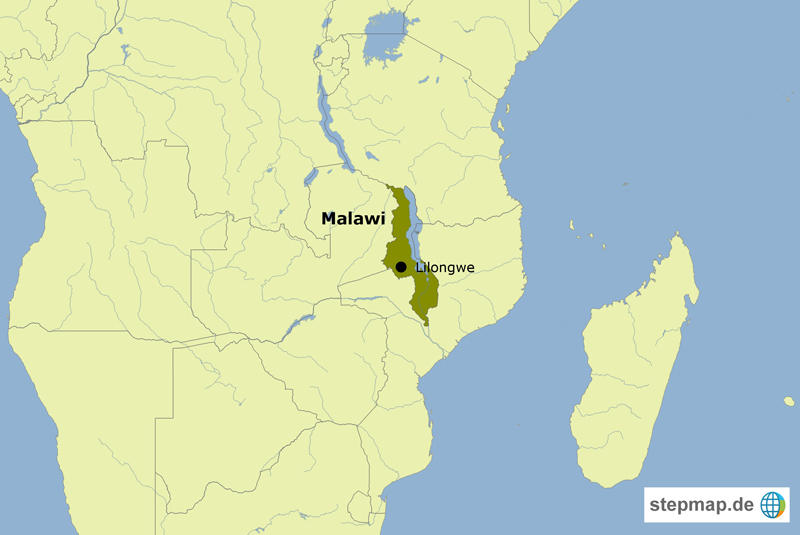 stepmap.de
Under FISP, the government gives coupons to poor farmers to buy subsidised hybrid seeds, synthetic fertilisers and agro-chemicals from a government-authorised company. The programme initially made seeds and fertilisers available to poor farmers at a small fraction of the market price. Currently, it makes such inputs available at approximately one-sixth of the market price.
When inaugurating the programme in 2005, then President Bingu wa Mutharika said it would improve the country's food security. He added that there is no reason that Malawians should suffer hunger when their country is rich in agricultural resources.
And, in fact, the programme showed promising initial results. From a 43 % national food deficit in 2005, Malawi achieved a 53 % surplus in 2007, according to a team of academic experts writing in the peer-reviewed journal PLOS (Public Library of Science) Biology in 2009.
Yet this programme – which started out so well – is breaking down. In recent years farm output has fallen due to a combination of factors: drought, rising costs of agricultural inputs, corruption and mismanagement of the FISP programme. Agricultural expert Tamani Nkhono-Mvula says the programme has failed due to corruption and "that is why many people are calling for its abolition".
Corruption has followed the flow of money into the programme. During the 2019 growing season, Malawi spent 35.5 billion Malawian Kwacha (approximately € 44 million) on FISP.
Political influence has crept in as well. Farmers who receive coupons increasingly tend to be those who support the ruling party. In some cases coupons end up in the hands of well-connected traders who cash them in rather than buy farm inputs. Some unscrupulous agro-dealers get huge sums of money from the government through dubious contracts but fail to deliver the farm inputs to farmers.
These failures are hurting Malawi's vulnerable population of farmers and threatening massive hunger. During the 2019-2020 season the programme targeted 900,000 impoverished farmers, almost all of whom subsist by growing maize. About half of Malawi's 17.6 million people live below the poverty line; about half of those live in extreme poverty.
The problems of the FISP programme come as the southern African region faces serious climate obstacles, with drought in some regions and floods in others. In December 2019 the World Food Programme (WFP) estimated that 16 million people within the 16-nation Southern African Development Community (SADC) region would face serious food shortages during the first half of 2020.
Subsidising farm inputs cannot solve all of these problems, but it can make a difference. The southern African region spends millions on such programmes. If these funds were properly used, the region would be farther along in finding lasting remedies for hunger, despite its climate challenges.

Link
Denning, G., et al., 2009: Input Subsidies to Improve Smallholder Maize Productivity in Malawi: Toward an African Green Revolution. PLOS Biology, January 2009.
https://www.ncbi.nlm.nih.gov/pmc/articles/PMC2631071/

Raphael Mweninguwe is a freelance journalist based in Malawi.
raphael.mweninguwe@hotmail.com