Microfinance
Flexible and disciplined
As self-organised little savings communities, "tontines" are an example of economic, social and cultural solidarity. Solidarity is their great strength.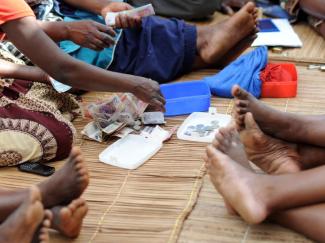 Pedersen/picture-alliance/dpa
Collective savings can be very successful. A group of market trader women from Abidjan, the economic capital of the Côte d'Ivoire, are an example. As a cooperative, they have built up a market with about 200 shops and 700 stalls. They were supported by the international microcredit provider Oikocredit.
The cooperative is called COCOVICO (Coopérative de Commercialisation de Produits Vivriers de Cocody). By now it has 600 members. They are market women of different ages – between 16 and 65 years old. The cooperative is based on an initiative of female street merchants who joined up in order to create better commercial conditions. With the rental incomes COCOVICO services the Oikocredit loans that were needed for establishing the market (see box).
At its core, COCOVICO is based on an old method of economical cooperation that is called "tontine" in francophone West Africa. Tontines are associations of relatives, neighbours, friends or work colleagues. There are tontines in all sections of society, both in urban environments and in rural areas. Farm women as well as business people join hands in tontines.
Collective savings provide financial and social security to tontine members. Tontines matter especially in situations of precariousness and economic insecurity. Reciprocal solidarity is essential. Money is pooled and shared fairly.
Communal saving is popular in many African countries, and it has a long tradition: from South Africa to Senegal, Sudan to Uganda. In Cameroon also, many Africans manage savings together. There are many different models. In other countries tontines are known by local names like "esusu" (Nigeria), "ekub" (Sudan, Eritrea and Cameroon) or "jangi" (Cameroon).
The French neologism tontine is derived from the name of an Italian banker, Lorenzo Tonti, who in the 17th century is said to have suggested a mutual insurance system to Cardinal Mazarin, the finance minister of Louis XIV. African tontines are based on different traditional forms of reciprocal collective help. After the introduction of the money economy they formed into reciprocally founded associations to finance exceptional expenses such as funerals, baptisms or pilgrimages. Tontines are proof of African societies' ability to form flexible, but disciplined associations. Migration has brought tontines to Europe too.

Clear rules
Tontines mostly have clear and simple rules, which are observed with great discipline. Those who miss meetings without a valid excuse or disobey rules have to pay a fine, for example. Those who repeatedly stand out as being disruptive are excluded. Contributions are paid at fixed times, either weekly or monthly. These associations have strict systems of rules, the term "informal" does not describe them well. Papa Sow, a Senegalese sociologist who did research on the tontines of West African migrant communities in Catalonia, prefers the adjective "popular".
Papa Sow emphasises the socio-cultural aspects of tontines. They strengthen members' sense of community and their cultural identity. However, tontines are more common among West African women than among men. Especially in rural areas, tontines consist mostly of women.
At regular meetings, the members pay in a predetermined sum of money. The sum of the payments-in is then paid out at a previously determined date to a previously determined member of the group. The next member benefits in the cycle. There are many models that can be changed according to the wishes or needs of the respective members.
The money is used by the members for different purposes. They spend it on special occasions such as festivals or pilgrimages, for example. Regular expenses such as school fees can also be paid in this way. Moreover, the money is sometimes invested in long-term purchases such as cars or properties. Such investments are often relevant for business activities and generate additional earnings in the medium-term.
Tontines have only received international attention since the second half of the 20th century. Since then, anthropological and sociological research has been carried out. For about 25 years now, the huge "underground" savings have also attracted the attention of governments and global financial institutions.
Since then the formal financial sector has been pondering how to integrate tontines into its business. Doing so makes sense if it boosts tontines' capacities and facilitates major income-generating investments, as was obviously the case with the market of COCOVICO in Abidjan. Caution is needed, however. All too often, commercial micro-finance schemes have led to over-indebtedness of poor people. Moreover, tontine savings must not be lost in speculation, since that would thwart the core purpose of providing social and financial security.

Eva-Maria Bruchhaus is a development consultant. She contributed to the preparations for a conference on tontines and microfinance that was hosted by the Goethe Institute in Abidjan in spring.
nc-bruchhev@netcologne.de