Tribals
Scapegoating
A small tribal community in Zimbabwe is being blamed for worsening the impacts of climate change. People who belong to other tribes may feel superior, but the Khoisan are primarily victims of global warming.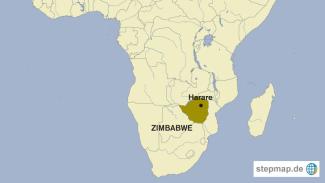 stepmap.de
At 14 years of age, Ndumiso Sibanda has never been to school – and probably never will be. He belongs to the ancient Khoisan tribe. They live in Zimbabwe's Matabeleland North Province. His family has a semi-nomadic life style.
Khoisan is a unifying name for two groups of people in Southern Africa. They share physical and linguistic characteristics that distinguish them from the region's Bantu majority. According to Tsoro-O-Tso San, a development trust that is involved in Khoisan welfare, the tribal community has a population of 2,500 people.
Ndumiso says his community lives in an environmental-friendly way. "The bush has always been part of our lives, we live in harmony with nature," he claims. Incessant droughts have left their mark on this Southern African country, however, and the Khoisan and their livestock have not been spared. "Most of my people no longer have cattle because of the lack of water," he says. "Only few domestic animals, goats for instance, survive the harsh conditions."
Some environmentalists argue, however, that the tribal community is compounding ecological problems. "The Khoisan use grass and tree branches to construct their homes, cutting trees, damaging nature continuously as they don't live for long at one place," maintains Mavis Chidziva, an independent environmental expert. This is how the government sees things too. "Khoisan people dig out tree roots from the ground, worsening climate change effects, because the trees consequently perish," complains Nyson Dhumbuchena, a government climate-change officer.
Davy Ndlovu of Tsoro-O-Tso-San does not agree. He insists: "The Khoisan respect the environment and they avoid unnecessary cutting down of trees. They live with nature."
He adds that, while the Khoisan have not contributed to making climate change happen, they are suffering its impacts.
Indeed, the Khoisan have become scapegoats. "We are being accused of fuelling effects of climate change by tribes who think they are superior to us,"  says Ndumiso.
Jeffrey Moyo is a journalist and lives in Harare, Zimbabwe.
moyojeffrey@gmail.com