Water stress
The dwindling lake
Due to climate change and overexploitation of its water resources, Lake Chad is shrinking. The impacts on Nigeria are devastating.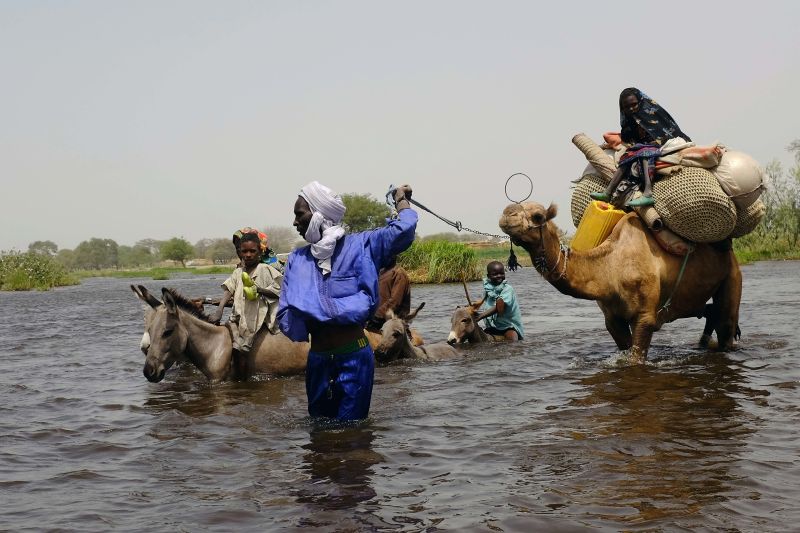 Jerome Delay/picture-alliance/AP Photo
When European geographers first surveyed Lake Chad in 1823, it was considered one of the world's largest lakes. For several reasons, it has since shrunk by about 95 %. Climate change is proving devastating. Moreover, too much water is being extracted as the populations of the countries surrounding the lake (Niger, Chad, Cameroon and Nigeria) are growing.
Lake Chad still provides water to about 38 million people for irrigation and other needs, even though its surface area has been reduced from 25,000 square kilometres in the 1960s, to 4,800 square kilometres in 2014. Its fish resources are important too. Dried fish, which is a popular source of protein for the people in the region, is becoming ever more expensive and scarce.
The dwindling of the lake has devastating impacts on Nigeria. Uneducated rural people used to be able to make a living from agriculture in Nigeria's Borno State, but in many places farms and livestock rearing have become unviable.
Some of the people affected have joined the Islamist militia Boko Haram, which pays fighters and is doing what it can to attract disillusioned youth. Other people have been migrating southwards looking for alternative livelihoods. In view of the tight labour market, only some of them find jobs. Others turn to criminal activity. The worst damage, however, is being done by the desperate herders who are migrating with their animals and disrupting life in areas they did not use to go to. Sometimes they even show up in the capital region of Abuja (see box).
Benue State is known as Nigeria's food basket. The distance to what is left of Lake Chad is more than 1,000 kilometres. Nonetheless, Benue State has been badly hit by constant clashes of herders and farmers. Such violence first occurred in the late 80s, but it has become worse in recent years.
An estimated 3,000 persons were killed in Benue State between 1989 and 2013, and more than 1,200 died between April 2013 and July 2016 according to local media.

Dangerous faith-affinity
Other states have not been spared either. In December 2016, the Catholic Diocese of Kafanchan in Kaduna State reported that 808 people were killed in incidents there, while farm produce worth $ 18.5 million was destroyed. The situation is especially tense as some Christian leaders accuse the state's Governor Nasir El-Rufai, a Muslim, of taking sides with the herdsmen, who mostly belong to the Fulani, a predominantly Muslim tribe.
In Nigeria, affiliations to religious faith are potentially explosive. The people of southern Kaduna are mostly Christians, but the state's north is mostly Muslim. Indeed, Nigeria itself is split into a mostly Christian South and a mostly Muslim North. Some Christians say that the herders feel encouraged by the fact that President Muhammadu Buhari is Fulani.  
Violent clashes are not the only consequence of generally increasing aridity and the dwindling Lake Chad for Nigeria. The UN has warned of famine in north-eastern Nigeria. The main reason is the Boko Haram insurgency, which however, is interwoven with issues of poverty and environmental degradation. The current food crisis is obviously being compounded by lack of water and cattle destroying harvests.
The Federal Government has responded to the clashes with a proposal to recreate grazing routes that herders used across the country in the 1960s. The proposal has triggered a political backlash, however, as it is considered to pander to the herdsmen. Critics say it would only  exacerbate problems of land ownership, as the grazing routes of the 1960s no longer exist in a more densely populated country today.
Some argue that nomads should not roam around with cattle but switch to ranching. For example, Dickson Tarkighir, a member of Nigeria's House of Representative from Benue State, points out that ranching would ensure that the herdsmen get access to facilities such as hospitals, veterinary doctors, schools et cetera. The big questions, of course, are on what land ranches might be established and who might provide the water they would need.

Environmental challenge
Sam Onuigbu chairs the House of Representatives' Committee on Climate Change. He argues that it is necessary to address the clashes, but that it is even more important to take steps to mitigate underlying environmental problems, including the impacts of global warming. He attributes the massive decline in the size of the lake since the 1960s to constant changes in government policy. Somersaults by military regimes, which all had different priorities, compounded matters, according to him. 
In Onuigbu's eyes, the current government is committed to tackling the issues of climate change. It has signed the Paris Agreement on climate action and has begun to draft and implement related policies. The parliament is working on legislation to mainstream all related issues.  
Not all civil-society activists are convinced, however. Nnimmo Bassey, who heads the Health of Mother Earth Foundation (and contributed an essay on oil exploitation and fisheries on the Nigeria Coast in D+C/E+Z e-Paper 2017/04) warns that most of the responses to the dwindling of Lake Chad so far are too superficial. He sees a need for concerted international action, in particular by the countries of the Chad basin.
The depressing truth is that the Lake Chad Basic Commission has not been effective. It was set up by the four neighbouring countries as early as 1964, but it was not funded properly and faces various other challenges. It was supposed to regulate the use of water and other natural resources in the Chad basin and coordinate development projects and research. 
Today, the most urgent action, according to Bassey, is to increase the volume of water in Lake Chad, which could be done by improving the management of the entire water shed of the Chad basin. This would include reviewing of the management of regional vegetation, he says: "We need to implement the Great Green Belt project, which should not be a question of planting trees for TV camera, but actually growing and developing an ecologic corridor where trees are relevant." The local people must be involved in planting trees and ensuring their survival. 
Bassey acknowledges that Nigeria's current government is showing a stronger interest in environmental issues than previous ones. Nonetheless, he argues that too little is being done too late.
At the international level, some help is coming to avert famine in the Lake Chad region.  At a summit in Oslo in February 2017, donors pledged almost $ 700 million to address the humanitarian issues in the region over the next three years. Nigeria and Chad are also on the forefront of an international campaign to raise $ 50 billion for the recharging of Lake Chad. 
According to the UN Food and Agriculture Organization (FAO), Lake Chad is an "ecological catastrophe", which will lead to even more devastating consequences if it is not dealt with properly. To Nigerians, this is bad news. They are already feeling a lot of pain.

Damilola Oyedele is a senior correspondent for Thisday, a Nigerian newspaper. She lives in Abuja, Nigeria.
damiski22@yahoo.com