Social insurance
Universal health-care coverage is feasible
If the international community is serious about reducing inequality, health care cannot be left to market forces. Solidarity matters. In Bangladesh, the civil-society organisation Gonoshasthaya Kendra is proving that universal coverage is possible.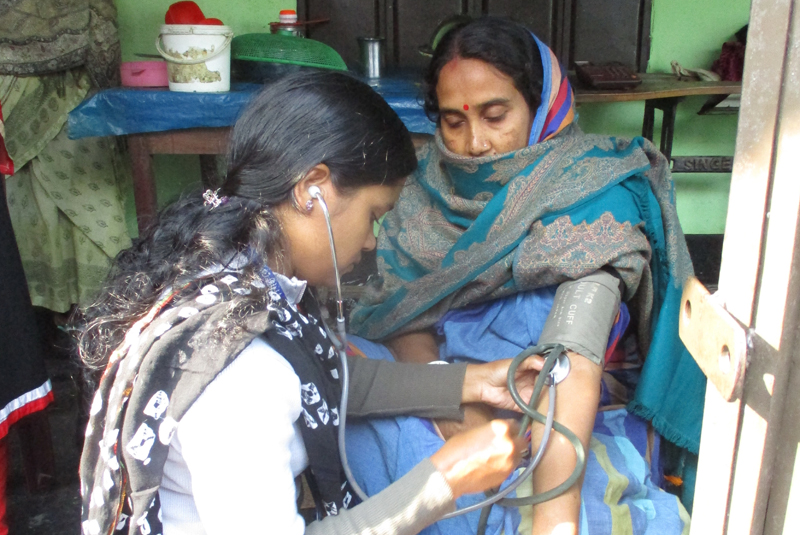 dem
At Gonoshasthaya Kendra (GK), we know what a comprehensive scheme to provide social health insurance to garment workers would cost. We ran pilot projects in cooperation with the Dutch embassy and medico international, a German nongovernmental organisation. An annual insurance premium of 1200 taka (about € 14) per person would suffice. We think employees should pay 25 %, employers should pay 25 % and the foreign companies that buy the clothes should pay 50 % of the premium.
On this basis, workers would still be charged small sums for individual services. Our experience is that people do not value services unless they pay, but the costs must not be prohibitively expensive.
Our pilot projects have taught us more than merely pricing. One lesson is that the package must include physiotherapy since pain in neck, shoulders and back are common among garment workers. 
GK's main operations are to supply health care to 1.1 million to 1.2 million people long term through a social insurance scheme. It is not an insurance in the business sense. We do not calculate premiums according to individuals' personal health risks. A social insurance is based on solidarity, with people contributing money according to their ability, not their medical needs.   
GK currently provides services to six categories of people: ultra-poor, poor, lower middle class, middle class, upper middle class and rich. Households are charged according to the category they belong to. Every family member gets appropriate and affordable health-care services whenever  needed. For example, a rich household must pay 10,000 taka for a cesarian section, whereas a poor or ultra-poor household would be charged a mere 3000 taka.
Our mission is to prove that low-cost health care is feasible. Ultimately, we want the state to rise to the responsibility of introducing a social health-care insurance to cover the entire nation.
All rich nations have some kind of social health insurance. The model case was the social health insurance introduced by Otto von Bismarck in Germany in the late 19th century. His goal was to thwart the socialist movement. While he did not manage to suppress the Social Democratic Party for more than a few years, his health insurance was a lasting innovation. It is still viable, relying on payroll taxes paid by employers and employees. The premium depends on a person's income. In return, the person concerned and dependent family members get the health care they need.
Schemes like this facilitate universal coverage, whereas unregulated market forces only protect the better-off. Developing countries certainly need universal health-care coverage. Illnesses and accidents plunge many people into poverty.
As a poor country, Bangladesh cannot afford to pay as many medical doctors per capita as a rich country like Germany does. Therefore, GK relies on paramedics who work in the villages. When a particular case is beyond the paramedics' abilities, they turn to doctors at our local health centres. These centres, in turn, refer difficult cases to hospitals, some of which are run by GK. 
Our system is quite efficient. Among the GK clientele, we are now close to achieving the Sustainable Development Goal on maternal mortality. We are proud of Bangladesh having come close to achieving the respective Millennium Development Goal. We and know that examples set by GK in the past four decades have helped to improve maternal care in general. Today, we are proving that even more is feasible. 
If the international community is serious about reducing inequality, social health-insurance systems are indispensable. Solidarity is needed to make universal health care affordable, and legislation must be passed accordingly.


Rezaul Haque is medical doctor and works in the management of Gonoshasthaya Kendra, a health-care organisation in Bangladesh.
rezaulgk50@gmail.com
Correction: Due to an editorial mistake, the initial version of this essay falsly stated that Bangladesh had achieved the MDG on maternal mortality. That was not correct. Bangladesh reduced maternal mortality by about two thirds from 1990 t0 2015. The MDG was a reduction by three quarters. We apologise.