Land rights
Taking possession
In war-ravaged South Sudan, disputes over land ownership are adding to the tensions already afflicting the country. A stable system of land tenure seems far out of reach.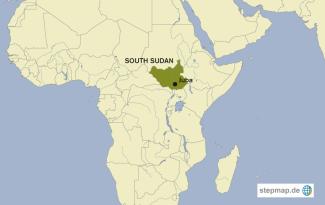 stepmap.de
The 2005 peace agreement that ultimately led to South Sudan's independence from Sudan in 2011 did not resolve the dichotomy between the two countries' land tenure systems. That difference has contributed to a spate of land-grabbing in South Sudan and a backlog of ownership disputes.
"In Sudan, private property reform governs land ownership rights, but in South Sudan customary rules prevail," says Moses Maal, head of land surveying in South Sudan's Ministry of Land and Housing. Customary rule means that active occupation or use of a piece of land is the main evidence of ownership. Under this system, traditional rules and local leaders determine ownership rights. That creates a potential clash between parallel systems.
Such clashes are occurring all across the country, says Maal, whose office has a backlog of 13,000 cases involving land disputes. He says the government should set up a system of local land courts to handle these disputes and prevent further conflict. "In the capital Juba, we have a problem between locals and outsiders," Maal says. In the countryside, "some powerful people are grabbing native land. A lack of proper land policies is to blame."
The extended absences of many traditional farmers who fled from South Sudan's long period of violence made matters worse. South Sudan's civil war erupted in December 2013 and has killed more than 10,000 people. It also caused over 4 million people to flee, according to the UN. Of these, more than 2 million fled to neighbouring Uganda, Kenya and Ethiopia.  
Following a September 2018 peace agreement, many of those refugees returned home, only to find that their land had been taken over during their absence. According to Reech Malual, a human-rights activist based in Juba, "the government has no rights to own the land but manages it on behalf of owners. This fuels land-grabbing because people who can't [make legitimate] investments use other means."
When land grabs occur, that system is turned on its head. Moreover, in such circumstances land use can change in harmful ways. For example, shepherds may bring livestock to graze on land that was previously used to raise crops, thereby destroying crop fields.
Since 2014, farmers in South Sudan's Equatoria region have complained about the arrival of shepherds and livestock on their land. They have come to regard the newly arrived herders as threats to their livelihoods – and the feeling is mutual.
According to Sule Amari, a local chief in Pageri County, about 70 miles from the capital, shepherds armed with guns have been occupying farmlands, endangering crops and threatening food supplies. "Land is a question of life and death for many youths," Amari explains. "Local chiefs have been asking our youths to refrain from violence. But the herders have to leave. This is the only way for us to co-exist."
In 2017, South Sudan's President Salva Kiir Mayardit ordered herders from others states who graze their animals in parts of Equatoria to return home. But talks to resolve such impasses have shown little sign of progress, creating fertile ground for more disputes to grow.

Parach Mach is a journalist and lives in Juba in South Sudan.
parachmach@gmail.com