Empowerment
Spectacular achievement
Bangladesh has made remarkable achievements in reducing the average number of children per woman of reproductive age (total fertility rate – TFR). This figure was above seven in the early 1970s, but, according to World Bank, it is now merely 2.2. Bangladesh currently has the lowest TFR in South Asia. Najma Rizvi, a social anthropologist, assessed the reasons for this remarkable success in an interview with Hans Dembowski.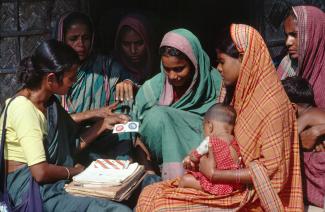 Mark Edwards/Lineair
When did family planning really begin to make a difference in Bangladesh?
Significant change began in the 1980s. There had been family-planning programmes earlier; the first started in the mid-1960s, when Bangladesh was still part of Pakistan. The early programmes did not achieve much, however. An important reason was that they paid little or no attention to maternal and child health. To succeed, one needs a holistic approach that takes into account many other things than only the use of contraceptives.
How does family planning relate to maternal and infant mortality?
There is an important connection, so it is no coincidence that Bangladesh has made good progress on all of these fronts. In 2010, the Bangladesh mortality survey reported a decline of 40 % in maternal mortality rate between 2001 and 2010. In the same period, infant mortality declined by 44 % and child mortality by 35 %. The decline in maternal mortality can be attributed to the successful delivery of family-planning measures, integration of maternal and child health with family planning, promotion of safe delivery measures, tetanus vaccination and other health-care services. The reductions in infant and child mortality occurred primarily because of a highly successful immunisation programme. An important aspect is that lower infant and child mortality rates motivate mothers and even fathers to have fewer children. According to UNICEF, Bangladesh's child mortality rate was 139 per 1000 live births in 1990, and it was reduced to 46 per 1000 in 2011.
How was that achieved?
With the support of WHO, non-governmental organisations and the state cooperated on bringing immunisation to the entire country. Gonoshasthaya Kendra (GK), the largest health-focused NGO in Bangladesh, regularly organises immunisation camps for example. The government supplies the vaccines and GK staff immunise pregnant women and children. Many women are aware of the fact that the tetanus vaccine provides them with protection against this deadly disease, so the overwhelming majority of women have had their vaccination. Many display a great eagerness to have their infants and young children immunised too, and some even show up before the actual immunisation dates. Many of them convince their neighbours of how important the vaccination is.
In terms of promoting family planning, who is more effective: the government or the NGOs?
The NGOs are more effective, but the really important thing is that government and NGOs must cooperate in a coherent manner. In 1978, the government of Bangladesh launched the delivery of family-planning services through family-welfare assistants. These people were assigned the task of reaching out to the village women at their doorsteps. The approach followed the example set by the International Center for Diarrhoeal Disease Research, which is based in Bangladesh and is called ICDDRB for short. The ICDDRB had started a similar programme in Matlab with the goal to reduce the birth rate. They sent out health workers every two weeks to deliver messages about contraception, distribute contraceptives and motivate mothers to use them. The health workers addressed the women's fears and discussed the possible side effects of contraceptive use. They also provided health-care services when needed. The approach proved to be successful, and evidently the family-level support was crucial. One result was that the government understood that it had to cooperate with NGOs to reach as many people as possible at the grassroots level.
What do the NGOs do?
Well, GK delivers prenatal and post-natal care in the villages through paramedics and other health workers. Promoting family planning is part of their job. BRAC, the largest developmental NGO in Bangladesh, has a network of village clinics, and its village-based health workers also provide health care and family planning services. Government-run community clinics are similarly involved in both health care and family planning.
Who does the work at the grassroots level?
They are young women who are employed as welfare assistants, paramedics et cetera by NGOs or the government. Moreover, many traditional midwifes have been trained in up-to-date skills, and they are also raising awareness for family-planning issues. The point is always to advise mothers about the benefits of having a small family.
How is it possible to promote birth control in a predominantly Muslim nation? Doesn't the faith stand in the way?
Actually, Islam does not prohibit use of birth-control measures, but it forbids infanticide. Since women's health, children's health and the costs of raising children are important factors to consider, Muslim clerics in Bangladesh are not opposed to the promotion of birth control. That is true both at the policy-making level and the grassroots level. In Pakistan, also a Muslim nation, the Muslim clerics have not been supportive in that way, but in Bangladesh, there are no deep-seated religious or cultural obstacles against birth-control measures.
Can other developing countries learn something from Bangladesh's experience?
Yes, Bangladesh's dramatic birth-rate decline can certainly provide lessons to Pakistan, India and low-income countries in general. Several things are relevant:
It is useful to broaden family-planning programmes in a way to improve maternal and child survival rates. Addressing all health needs of women and children contributes very much to the acceptance of family planning.
If infant and child survival rates rise, mothers are more motivated to use contraceptives and are better able to convince their husbands.
Collaborative and coordinated efforts of the government and NGOs yield better results.
Women have more decision-making power about how many children to bear when they have education, and girls are married at a later age when they have some schooling.
If women have income opportunities and access to microcredit, for instance, they are in a better position to insist on family planning in arguments with their husband.
Workers at the village level should address women's fears and concerns about the side effects of contraceptives, for instance.
Islam does not prohibit birth-control measures. Many Muslim clerics and reformers in Bangladesh support family planning in view of better health of mothers and children and the costs of raising children.
What challenges does Bangladesh still face in terms of family planning?
Bangladesh's success in lowering the TFR to 2.2 is highly laudable, but statistical averages always hide some issues. For families in remote areas, the TFR is much higher, and health-care services there still remain quite poor. Policymakers and NGOs must focus on these areas, and both GK and BRAC are doing so. More generally speaking, efforts to improve education and income opportunities matter very much. They must continue.
Najma Rizvi is professor of anthropology at Gono Bishwabidyalay ("People's University") in Dhaka. The university was started by Gonoshasthaya Kendra ("People's Health Centre"), a non-governmental organisation focussing on health issues.
nrizvi08@gmail.com