Global affairs
Keep international promises
After Russian troops invaded Ukraine on 24 February, our common future looks even more fragile than it already did due to the climate crisis, blatant global inequality and democratic back sliding in many places. Western governments must promote the global common good – and they must take into account that their track record is marked by double standards.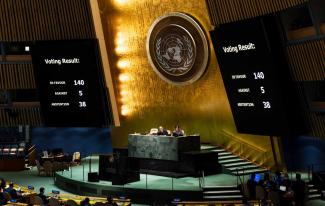 picture alliance / EPA / JUSTIN LANE
The war in Ukraine is causing death, devastation and dramatic human suffering. It is also exacerbating the systemic rivalry of democracy and autocracy. At the same time, it shows that, while nationalistic despotism may serve an oligarchic elite, it certainly undermines humankind's common future.
We urgently need a socio-ecological transformation that achieves climate neutrality, improves biodiversity protection and eliminates extreme poverty. The war and systemic rivalry are, however, distracting attention from the needed transformation. It must not be postponed.
The international community cannot afford to deal with global poverty and global ecology only once other problems are solved. The plain truth is that the escalating global environmental crisis and flagrant social injustice are constantly adding to those problems. In this sense, the attack on Ukraine actually was an attack on humanity as a whole (see Hans Dembowski on www.dandc.eu). Rising prices for food and other commodities are making that even more obvious.   
It is therefore imperative not only to protect democracy and international law, but also to do whatever we can in pursuit of the global common good. The relevant yardsticks are the welfare of the poorest communities and vulnerable countries as well as progress regarding environmental protection. Strong international cooperation is needed to make these things happen.
Disagreeing with the west
Only four other countries chose Russia's side when the UN General Assembly voted on resolutions regarding Ukraine. Some read that as an endorsement of western policies. They are wrong. There were 35 abstentions, including by China, India and South Africa. That  indicates serious disagreement with the USA, NATO and EU. What UN members really endorsed were the principles of territorial integrity and the prohibition of the use of force.
Our partners in developing countries and emerging economies regularly point out that western governments have a pattern of preaching multilateralism, whilst pursuing national interests wherever they can (see Saleemul Huq on www.dandc.eu). The G7, the EU and NATO cannot claim the moral high ground. Mainstream media in prosperous nations typically do not make the public aware of long-standing international promises being broken again and again.
No, in spite of our pledges, our nations did not ensure that all countries got access to medications, medical equipment and vaccines during the Covid-19 pandemic. No, our governments have not lived up to the climate-finance commitments they made in 2009 for every year from 2020 on. No, most high-income countries do not spend 0.7 percent of gross national income on official development assistance as promised decades ago. The list goes on.
When Annalena Baerbock, Germany's foreign minister, addressed the UN General Assembly in New York on 1 March, she acknowledged these issues. She admitted the need to reconsider our own action and to reflect on our past international engagements. We – Europe, the G7, the west – must prevent a new bipolar confrontation, in which the needs of the weak and marginalised are once more disregarded as they were during the cold war.
An urgent need for reforms
We must therefore reform the way we handle our international relations, by building on the combined strengths of our foreign and international development policies. We must learn to understand the global challenges that concern the entire international community from the perspectives of our partners in north, south, east and west. We need a concept of the global common good that reconciles related concepts at national, regional and local levels.

Imme Scholz is president of the Heinrich Böll Foundation, which maintains close ties with the German Green Party. This comment is based on the farewell address she held at the German Development Institute (DIE – Deutsches Institut für Entwicklungspolitik), where she had served as deputy director until the end of March.
Twitter: @imme_scholz
www.boell.de