Peacebuilding
Fragile hope
The people of the Central African Republic hope their recently elected president will bring about reconciliation and economic recovery. The international community should help him do so.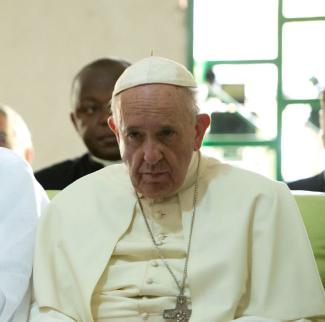 abaca/picture-alliance
The data speaks a harsh language. The average life expectancy is only slightly above 50 years in the Central African Republic (CAR). Of 1000 children, 139 die before their fifth birthday. Almost half of the country's population is malnourished. Needs are countless after the end of the civil war, but it seems as if the world has forgotten this landlocked country. Even the security of humanitarian workers is far from guaranteed. Attacks are still frequent, and in May a staff member of Doctors without Borders (MsF) was killed.
The Central African Republic should not be left to fend for itself. Unless the standard of life improves quickly, new violence looms. Unfortunately, there is no lack of weapons in the country, and many former fighters do not know how to earn a living by peaceful means.
Civil war had erupted in 2013, with Muslim Seleka rebels fighting Christian Anti-Balaka militias. The struggle was not so much about religion itself, but about the Christian south having neglected the Muslim north in the exploitation of commodities including gold, diamonds and timber over decades. Expected oil and gas revenues further fuelled the conflict.
Thousands were killed or raped. About one quarter of the people had to flee their homes. In December 2013, France, the former colonial power, intervened. A UN peacekeeping mission was deployed in September 2014. It currently has almost 13,000 troops, police officers and civilian staff. However, trust in the peacekeepers has suffered, as French soldiers and UN troops have been accused of raping women and children.
In February, Faustin Archange Touadéra, a Christian, was elected president. The election was surprisingly peaceful. Touadéra was supported by Karim Meckassoua, a Muslim who had tried to become president himself. The rival in the run-off conceded defeat. Touadéra has promised to govern without bias.
He is facing tremendous challenges however. Even though his government does not control large swaths of the CAR's huge territory, it must reconstruct a state, the judicial, health and education systems which had floundered even before the strife began, in a country where mere survival is a constant struggle for masses of people. The long neglected north must benefit from any upturn, and unless the president gains the trust of Muslims, there may be more violence soon.
Some 10,000 child soldiers fought in the war, according to UNICEF estimates. Many have never been to school. Demobilisation and reintegration programmes for combatants are hardly gaining momentum.
In the conflict, both sides systematically used rape to demoralise the enemy. Today, thousands of women and girls are not talking about their suffering – they feel ashamed and fear discrimination. Many other atrocities were committed, and impunity makes reconciliation difficult. The lack of a judicial system that could deal with crimes compounds the problems.
There is hope, nonetheless. The Koudoukou school in Bangui, the capital city, is one example. It was destroyed in the strife and has now been rebuilt by Welthungerhilfe, a German humanitarian agency. Christian and Muslim children are now learning together – reading, writing, arithmetic and tolerance are on the curriculum.
Humanitarian agencies are currently taking on many tasks that should normally be handled by the government. "Unfortunately, the government is not yet able to deal with the people's humanitarian needs," says Peter Eduard Weinstabel, a German diplomat in Bangui. He expresses "cautious optimism" that the government will successively assume more duties. The incidences of violence have gone down considerably since Pope Francis visited Bangui in November 2015 and appealed to all warring parties to lay down their arms.
Weinstabel says the people are tired of warfare and hope the president will bring reconciliation and fight poverty. The international community can – and should – help him do so.

Philipp Hedemann is a freelance journalist and recently visited the CAR.
philipp.hedemann@gmail.com