Education
Digital literacy would help Pakistan's female population
Digital literacy means that someone can make full use of digital devises such as smartphones, computers and the internet. Basic literacy is a precondition – and it is also required for using standard computer programmes that are common in business life, including Word or Excel, for instance. That is even true in some informal businesses as digital devices are becoming ever more common. Moreover, digital literacy often includes a basic grasp of English.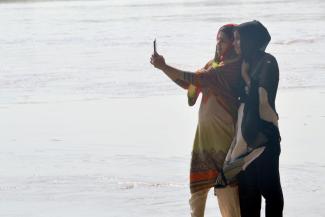 Rana Sajid Hussain/picture-alliance/Pacific Press
In Pakistan, half of the women are illiterate (see main story). Accordingly, it is no surprise that women's use of digital devices is very limited. To make a phone call, one does not have to be able to read or write, of course. Text messaging and many other, rather basic smartphone applications, however, require an ability to read and write. According to the Pakistan Social and Living Standards Measurement Survey 2018 – 2019, only 26 % of Pakistan's female population aged 10 and older own a mobile phone, and only 13 % reported having accessed the internet in a three month period. A mere six percent had used a computer, a laptop or a tablet in that time span.
The plain truth is that most women in Pakistan are denied the vast opportunities that digital technology offers. For most practical purposes, they are digitally illiterate and unequipped. The impacts cannot be overstated.
Governments around the world rely on digital technologies to improve service delivery to people and to give citizens more access to state institutions. In Pakistan, such initiatives largely bypass women. The basic citizenship document in the country is the Computerized National Identity Card (CNICs). According to official data, almost 24 % of adult women do not possess it. Traditional norms restrict many women's mobility, so they cannot go to government offices that issue the document.
The National Database and Registration Authority (NADRA) is in charge of these matters. It offers an online application process for the issuance and renewal of CNICs. To use it, however, a woman must not only have access to the internet and be able to read and write. She must also know how to fill out online forms and upload her picture. Further complicating matters, the NADRA website is in English, without offering links to Pakistan's regional languages or Urdu, the national one.
Government programmes that are supposed to empower women run into the same problems. Pakistan's flagship social-protection program is the "Ehsaas" programme. It offers the women of the poorest households small loans as well as both unconditional and conditional cash grants. Efforts to improve outreach and efficiency include the Ehsaas website. It includes information concerning the programme structure, application procedures, eligibility criteria, et cetera. Everything is spelled out in English.