Resources
Zambia and DRC partnering in battery production
Use of electric vehicles is gaining traction worldwide due to their low carbon footprint. The governments of Zambia and the Democratic Republic of Congo (DRC) are partnering to invest in production of lithium-ion batteries which power these electric vehicles (EVs).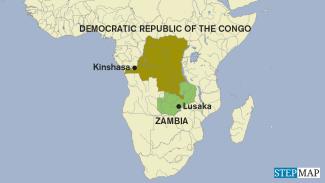 stepmap.de
Zambia and DRC have vibrant mining sectors. They form part of the so called "Copper belt" which stretches from the Central African Republic, the DRC and Zambia. This region accounts for the world's largest supply for cobalt, a mineral used in the production of lithium-ion batteries.
A June 2020 report by the United Nations Conference on Trade and Development (UNCTAD) predicts that some 23 million electric vehicles will be sold over the coming decade. "The market for rechargeable car batteries, currently estimated at $ 7 billion, is forecast to rise to $ 58 billion by 2024," the UN report says.
Benchmark Mineral Intelligence, a body that researches and publishes market data on the lithium-ion battery and EVs supply chain, states that global demand for cobalt has tripled since 2011 in the battery sector alone. It further predicts that demand for cobalt will reach 190,000 metric tons by 2026.
Whereas the precious metal cobalt is sourced largely from the DRC and Zambia, refining and value addition to the metal takes place elsewhere, in countries such as Belgium, China, Finland and Norway. Zambia has advanced its manufacturing sector with potential to produce car batteries.
For this reason, the southern Africa country has sought for a partnership with its neighbour DRC to boost their mining and manufacturing sectors to be able to take advantage of the global demand for cobalt and lithium-ion batteries. By doing so, they hope to shorten supply lines between cobalt refineries and battery-making plants.
The two governments recently signed a memorandum of understanding; "Zambia–DRC Battery Council" which they hope will make them massive producers and refiners of cobalt for electric vehicle batteries. "Our focus is job creation for the people of our two countries through economic diversification, job and wealth creation for the economic and social transformation of our citizens," said president Hakainde Hichilema of Zambia when he signed the agreement in Lusaka alongside his DRC counterpart president Felix Tshisekedi.
The move by the two countries has received support from environmentalists and climate change activists who see it as a step in the right direction. "If our country effectively mines cobalt and copper for the electric vehicle battery value chain, it's going to be a win for Zambia, a win for the EVs industry and a win for the environment as we look to cut fossil-fuel emissions on a global scale," said Robert Chimambo, a local environmental activist.
Zambia's foreign affairs and international cooperation minister Stanley Kakubo expressed support for the partnership saying: "The joint Zambia-DRC battery precursor initiative has a vision to create a competitive electric vehicle battery value chain aimed towards sustainable development and inclusive growth. It is in line with the country's development aspirations to bring about a more diversified and industrialised economy which will contribute towards job creation and the improvement of the Zambian people's livelihoods."
Several Chinese, Japanese, US and European automakers have assembly plants in South Africa for traditional cars but electric car producers like Tesla are absent. It is only hoped that as EVs become more popular and initiatives like that of Zambia and DRC take off, the situation will change.