Useless suffering
Temples over hospitals
The tally of people infected with Covid-19 in India zoomed past the 2 million mark in the first days of August. The numbers are raising fast to take it to 3 million soon. It took India only 20 days to progress from 1 million to 2 million cases. This was faster than the USA (43 days) and Brazil (27 days).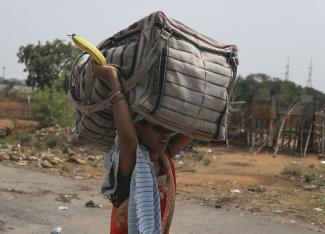 Mahesh Kumar A/picture-alliance/ASSOCIATED PRESS
Two million infections was not merely a psychological mark. It showed that India's Covid-19 policy has been a disaster. Prime Minister Narendra Modi wrongly praises his government for managing Covid-19 better than the "developed" world. The Ministry of Health and Family Welfare argues that it is a great achievement to have kept the recovery rate among patients above and the fatality rate below the global average, but epidemiologists do not agree. They attribute the lower fatality rate to India's comparatively young demography.
Of course, one does not have to be a public health expert to conclude that more than 50,000 deaths in just over four months is a terrible record, especially after the imposition of a harsh, but improvised lockdown. On 24 March, the prime minister announced a total national lockdown on a notice of just four hours. This resulted in millions of migrant workers getting stranded in big cities without jobs, food or shelter. All public transportation was discontinued, so neither trains nor buses were available. Masses of people started walking home to their villages. The trip took many of them several days – and all too many died on the way.
A rough estimate is that India has about 120 million internal migrants who come from a village but work in one of the major cities. The depressing truth is that the lockdown was not used to ramp up medical services, including testing. The government has centralised decision making, but has not risen to pandemic challenges. The suffering the lockdown caused was therefore mostly in vain. Once the restrictions were lifted, the disease began to spread fast.
In August, Amit Shah, the home minister of the central government, was tested positive for Covid-19. He was immediately admitted to a private hospital. Several other policymakers were infected too, and so is Amitabh Bachchan, the Bollywood superstar. Most of the prominent patients get good medical treatment. Nonetheless, two state ministers in Uttar Pradesh, India's most populous state, did not survive the virus.
It is telling that Home Minister Shah opted for a private hospital. The public health-care system is in a very poor shape. It has long been neglected. The vast majority of Indians, however, cannot afford private health care. About 90 % of the labour force works for informal businesses or smallholder farms.
Modi's Hindu-supremacist government is more interested in identity politics than in social services. As the country crossed the 2 million patients threshold, Modi found the time to lay the foundation stone for the construction of Ram temple in Ayodhya on the location where a Mughal Mosque was torn down in 1992 (for background information, see my contribution in Focus section of D+C/E+Z e-paper 2020/08).

Arfa Khanum Sherwani is a New Delhi based journalist and Senior Editor at TheWire.in
Twitter: @khanumarfa