Social media
Digital mobilisation, analogue protests
The internet is changing how African citizens are becoming involved in politics. Social media are giving scope to activism, but unfortunately, they have dark sides too. Moreover, many people still do not have access to the web.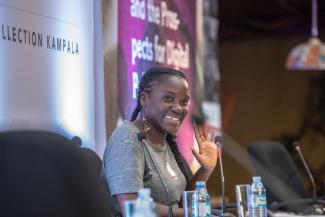 Zahara Abdul/KAS
According to Nanjala Nyabola, a Kenyan author and internet activist, "social media is an increasingly political sphere." Her country is a good example. It is a hub for digital development in Africa and pioneered monetary transfers by mobile phone (M-Pesa), for example. What is more important for the political landscape, Nyabola argues, is that Kenya has a large Twitter community. The short-message platform is the space where any political issue is debated hotly.
Nyabola is known for her book "Digital democracy, analogue politics". It analyses how the internet era is transforming politics. "As censorship rises in traditional media and public spaces decrease, political conversation shifts into online space," she said in her keynote speech at a recent conference on social media that was hosted by the Konrad Adenauer Foundation in Kampala, the Ugandan capital.
Citizens demand transparency, justice and accountability. Many are frustrated with how politicians act. Corruption is of great concern. Nyabola points out that "expressions of solidarity" often transcend tribal affiliations. In a nation where poli­ticians tend to pit ethnic groups against one an­other, this is a major achievement. In the past, public institutions tended to ignore citizens' complaints, but when they are faced with thousands of comments on social media, that is much more difficult, the prominent author points out.
Leading politicians and civil servants are aware of this trend. Accordingly, some political forces are trying to change public discourse, for instance by spreading misinformation and using automated computer programmes ("bots") for this purpose. Online information is increasingly "weaponised", as Nyabola warns (see Alphonce Shiundu in D+C/E+Z e-Paper 2018/05, Focus section).
Social media thus definitely has its dark sides. It has also enabled "new forms of situational violence, particularly against women", according to Nyabola. Her examples include sexual harassment or the publishing of a person's private information ("doxing"). In Kenya, moreover, xenophobic and anti-Muslim agitation has become frequent online. Typically, the target is the Somali minority, Nyabola says.
In Uganda, politics is not quite as digitalised as in Kenya. Political parties still "mobilise people in an analogue way", says Michael Katagaye from the Evidence & Methods Lab, a technology oriented civil-society organisation.
Young Ugandans want to have a say in issues that affect them. However, they are "not interested in traditional parties", but they engage in online activism or follow political personalities on social media, as Katagaye insists.
One of the influential personalities who voice the unrest of the youth is Robert Kyagulanyi, also known as Bobi Wine, a musician turned politician and member of parliament. He heads the "People Power" movement. At the Uganda Social Media Conference, his spokesman Joel Ssenyonyi explained that since Bobi Wine and People Power was not allowed to campaign physically, "we throw the topics out on social media." This virtual forum is extremely relevant, as politicians have realised. In response, the Ugandan government introduced a social-media tax in 2018. The idea was to reduce activists' outreach on popular platforms (see Edward Ronald Sekyewa in D+C/E+Z e-Paper 2018/10, Focus section). Nonetheless, young people still "mobilise online and then take the protest to the streets", Ssenyonyi says.
Online activism, however, still bypasses the mass of Africans. The reason is that many people are too poor to afford internet access or live in rural regions where infrastructure is too poor to facilitate web access. As Nyabola, the Kenyan book author, puts it: "How can you have the 4th industrial revolution if people can't afford data?"

Links
Nyabola, N., 2018: Digital democracy, analogue politics. London, Zed Books.
https://www.zedbooks.net/shop/book/digital-democracy-analogue-politics/
Uganda Social Media Conference 2019:
https://www.facebook.com/UgandaSocialMedia/
https://www.kas.de/web/uganda/uganda-social-media-konferenz